Chicken Nugget and Gang was named after our loving Bantam Rooster, named Chicken Nugget. In January of 2016, our Founder, Keir, visited a Rescue, 'A Critters Chance', to pick up some bunnies to foster. As she, and her Husband, were touring the Rescue, they came across this tiny rooster. She asked if she could pick him up, and the response was 'if he will let you'. He did….and then after walking around a bit, he laid his head on her shoulder and fell asleep.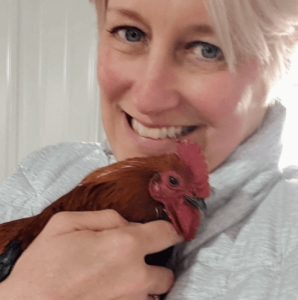 Although Keir had never had a chicken, or, even a desire to have chickens, it was love at first site. Chicken Nugget went home with her that day, with the bunnies, to be fostered. He was the immediate foster failure… 🙂
Some of our community work was inspired by our beloved Rock Star, another foster fail for Chicken Nugget and Gang. Rock came to us as a former farm worker.
Rock doesn't meet a stranger (much like our founder!) and we couldn't help but notice how much joy he brought the people around him, and how a few minutes with Rock left people feeling lighter and happier. This opened our eyes to a need in the community that could be filled by the animals filling our local shelters.
What We Do and Strive to Do
It was a quick slide from one chicken to ten, from chickens to bunnies and other small, domestic, and sometimes exotic animals that are given as gifts for Easter and then surrendered to local shelters, left at parks, or even by dumpsters. We've provided temporary housing, and facilitated fostering and adoption for cats, dogs, pigs, guinea pigs, you name it! And, in several cases, permanent housing for some little ones that have just been through too much and we don't want to re-home. These babies are part of our small sanctuary.
Every year, approximately 6.5 million pets are adopted and then dumped on the side of a road or at a shelter. Of these, 1.5 million will be euthanized due to overcrowding and lack of funding.
Our goal is to tackle this issue from the ground floor, starting with how people adopt a new pet. We take in those animals that are most at risk, or just have nowhere else to go, because the larger shelters are all full. We hold fun and safe certification classes for kids to allow them to spend a day taking care of the pet that they insist they could handle. For those looking for a new animal to love, we provide short-term fostering opportunities to ensure they make a good match. In addition, so that the animal is getting the full attention that they need. Many of these pets have not been socialized, or shown the love, and care that they needed.
We are working on our 'Friends of Nugget' list. This is a group of fellow Rescues that we know do a great job and we want to help spread to word for them. If we do not have the right fit/pet for someone, we will help them find the Rescue that does. In addition, Chicken Nugget and Gang will work on ways to support that Rescue when they are in need. For example, if Indy Great Pyrenees Rescue has a larger than usual number of dogs at their facility, we will set up a Volunteer day and go out and assist them with whatever they need.
After many years of Volunteering, and giving back, and also fostering, and/or adopting, our Founder discovered that there aren't a lot of Rescues working together. And, sadly, most of the Rescues don't have full-time employees. So, things get missed, or lost in the shuffle. Maybe we can be that missing piece and help get people matched with the right pet, or lend them a hand when they get overwhelmed, whatever we can do to help! After all, isn't it supposed to be all about the animals?;)
A long term goal of Chicken Nugget and Gang is to purchase a piece of land where a larger sanctuary can be housed. And at that stage, we can host fun, and educational, volunteer events for children and adults. What about You?
How can you help? Got time? Volunteer with us! No time but a full wallet? Donate (Monetary donations or Food and supplies can be sent to our headquarters)! Looking for a more personalized donation that really feels meaningful? Financially adopt one of our animals. Know somebody who loves animals or is interested in adopting or fostering? Just point them our way.
If you're interested in learning more, in volunteering or adopting one of our animals, or in scheduling a visit from Rock, we'd love to hear from you!